Isn't the idea of living in a tiny house so exciting?! The idea of paring down your positions to a livable minimum, reducing living costs, reducing your footprint, and perhaps traveling (if you're thinking of a version on wheels) sounds so exciting!! Whether you are considering a tiny house, shed to house, or any other house that is dramatically different from how you currently live, can you actually see yourself in a tiny house?
I am literally referring to visualizing yourself in a much smaller space. Have you felt the difference? It's huge, and just a quick search tells you that there are plenty of people that ended up regretting their decision to go smaller.
Let's walk through the steps to picture yourself living in your tiny space and help you feel good about moving forward with your lifestyle project.
Why Does Visualizing This Matter?
Visualizing yourself (and maybe your family if you have one) living in a much smaller space can seem like an exciting journey! I get it! I'm in the same boat.
I'm also a cautious risk-taker, so anytime I have a big idea I make myself sit with the idea to be sure it is the right move – before I commit!
I am sharing what my family has done in order to help you think through this in a similar way. I want you to feel what it means with the tools you have at your disposal to fully buy-in and KNOW deep in your soul that you should do this.
Feel how cramped it is when you are arguing with your partner.
Feel how load it is if the dogs are barking in your ear. That sound will carry and bounce all over that small space!
Feel what it means to not have a Cricut for the cup you want to customize or the lack of a big screen when you want to watch your Sunday Funday Football.
Feel what it is rainy – stuck inside a tiny space for a week.
Are you taking this adventure with a partner or family? How do you feel about listening to them do their business in the bathroom? Nope, I'm not joking. 🙂
Is any of this a show stopper? I don't think it is, but the point of visualizing yourself in the changed space is to help you account for the things that DO matter to you and anyone you're sharing this space with.
Have a plan & then march forward!
Creative Ways to Test Out Living in a Tiny Home
To make sure I felt absolutely secure moving forward with our shed to house conversion, I wanted to experiment with difference sizes. Here is a collection of ideas that we used.
Hopefully you find some inspiration for your situation! Some of these may require you to break out some arts & crafts supplies or taking a road trip. Share with me what you end up doing on Instagram!
1. Check Out Other Tiny Homes
You have a few options here. There is a wide misconception that tiny houses mean pretty much any house that isn't a 'traditional' sized home or one on wheels. I've got a guide if you're still in that boat, but in general, a tiny house is one that is under 400 square feet and a home. That's it. On wheels? A shed to house conversion? Whatever – they're a tiny house if under 400 square feet. In between 400 & a traditional home, you'll call that a small home.
Now that the verbiage is out of the way, you can visit ANYTHING that is small and considered livable to start getting an idea of small structure examples.
If at all possible, bring a chair. I'm going to list out ideas of places for you to hunt down, but when you get there, I'd recommend you get ready to hang out. These places are busier on the weekends, so bonus points if you can find time during the week to just hang.
Remember – you're trying to spend time to visualize you and your household members in that space. Day in and day out.
Ideas of places to scope out tiny homes:
Our local Home Depot has a 2 story version of their Tuff Shed. There is a set of stairs, but otherwise it is a blank slate. We have gone there twice just to talk about what COULD be done with that space.
There are also mobile home dealerships in the area, and now that living small has gained in popularity, they have models of those, too! They have the full set up to look at, and sometimes models will have furniture in them, as well.
We were visiting a state park, and we had forgotten they have 1 room cabins on site to stay in. We were nice and there on a slow day, so they actually let us just check one out. We popped our camp chairs in there and hung out for 5 minutes. I really recommend longer, but we were trying to be nice.
If you are lucky, you might live near a business that converts sheds. We live 3 hours from one, and would you like to know how many road trips we've taken to this place? They do EXCELLENT finish work, and they have so many onsite that change up, that we have gotten so much inspiration from that place! Dig around to see if you have a company similar nearby. We walk around and hang out. No one pays us any attention, but it has helped us feel better about our decision to keep going with this goal.
2. Rent a Tiny Home
After you've gotten a feel for tiny homes overall, I'm hoping it has narrowed down the size and amenities you'll be looking for. A natural next step would be to rent one if at all possible.
You may be able to rent them for a weekend at places like an RV park with cabins or a state park. You may be able to rent by the week or even month depending on the park.
Another option to look into would be airbnb or Vrbo. You're likely to find something, and you can make this a more affordable experiment if you book in the off-season for your location.
How about renting an RV or travel trailer? I don't love this idea as much since the feel would be a bit different, but this option still gets you an understanding of what living in a smaller space would do for your lifestyle.
Your goal is to stay as long as you can afford or are able to. Are you ready to ditch the big screen tv? How about passing up the latest kitchen gadget (unless it replaces other items)? You won't have the same kind of room, and this is simply to help you feel it.
3. Pretend You're in a Tiny Home
My husband has the hardest time visualizing something. We would go into empty sheds or tiny home models, and he feels like it is plenty of room. He wasn't feeling that shift this would mean to him. Here's how to get creative at home for relatively little money
Graffiti – Spray Paint the Dimensions on Grass
To help the hubs visualize this I broke out spray paint, and I spray-painted a rectangle to represent our tiny home in our backyard. The grass will grow out eventually!
Supplies Needed:
a yard
spray paint in a color that isn't green
tape measure
This was a big help because it allowed us to put things we own in that space. Patio table, coffee table, desk, whatever. Bring some furniture out into your faux-house to feel how much space a simple chair takes up.
No accessible furniture? Start searching for sizes of items you want, and you can spray paint 'furniture' on the grass, too. If you have kids, they will have fun laying in the bed. Of grass. Ha!
Did you know a king size bed is 76 inches by 80 inches? That's important to us, and we discovered what this means through this experimenting.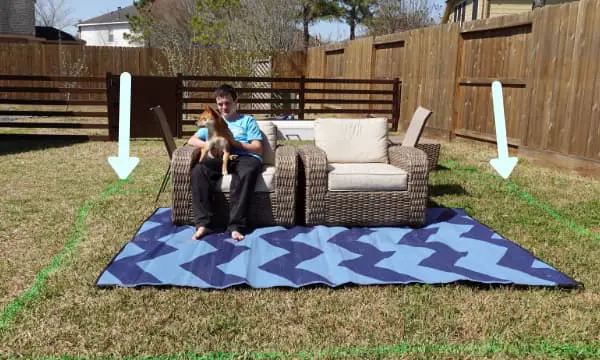 Repeat with Walls
To take this up a notch, I decided to put painters tape on the floor of our garage. The idea here is add spatial limits by having real walls around. They aren't quite the dimensions of what we plan on, but there is a visual stop nearby.
Supplies Needed:
Garage or other enclosure (like a shed)
Painters tape
Tape measure
So I laid out some painters tape with those dimensions, and again, I brought out items that make sense in our house. Then I left it there for a few weeks and did it again. This was a big factor in getting the extra 2 feet I wanted onto our project. YMMV (Your Mileage May Vary)
4. Final Step – Repeat Steps 1-3
The bigger the change you are signing up for, the more often I recommend that you rinse and repeat here.
It is impacts your sanity and finances, so spend time to make sure you know what you are getting yourself into.
Besides – hasn't this been a little fun?!