I find it funny that apples and pumpkins are a notorious fall phenomenon we associate with fall. Here on the gulf coast, we don't have apples to harvest. The apples we can grow are harvested in June. Summers are for salads! Wait. We can't grow lettuce unless you have an indoor operation for it in the summer here. So salads should be a winter thing for us. We're so different with an almost tropical environment. While a good chunk of the country is harvesting apples and making apple cider, we buy that apple cider and get our lettuce in the ground. Cheers to warmer climate & and extended growing season!
In October, artichoke, broccoli, Brussels sprouts, cabbages, cauliflower, collard, and kale transplants can be planted. You can also start beets, carrots, swiss chard, garlic, leek seeds, lettuce, mustard greens, onions, peas (English & Snap), radish, spinach, and turnips directly in the garden. No indoor seeds need to be started.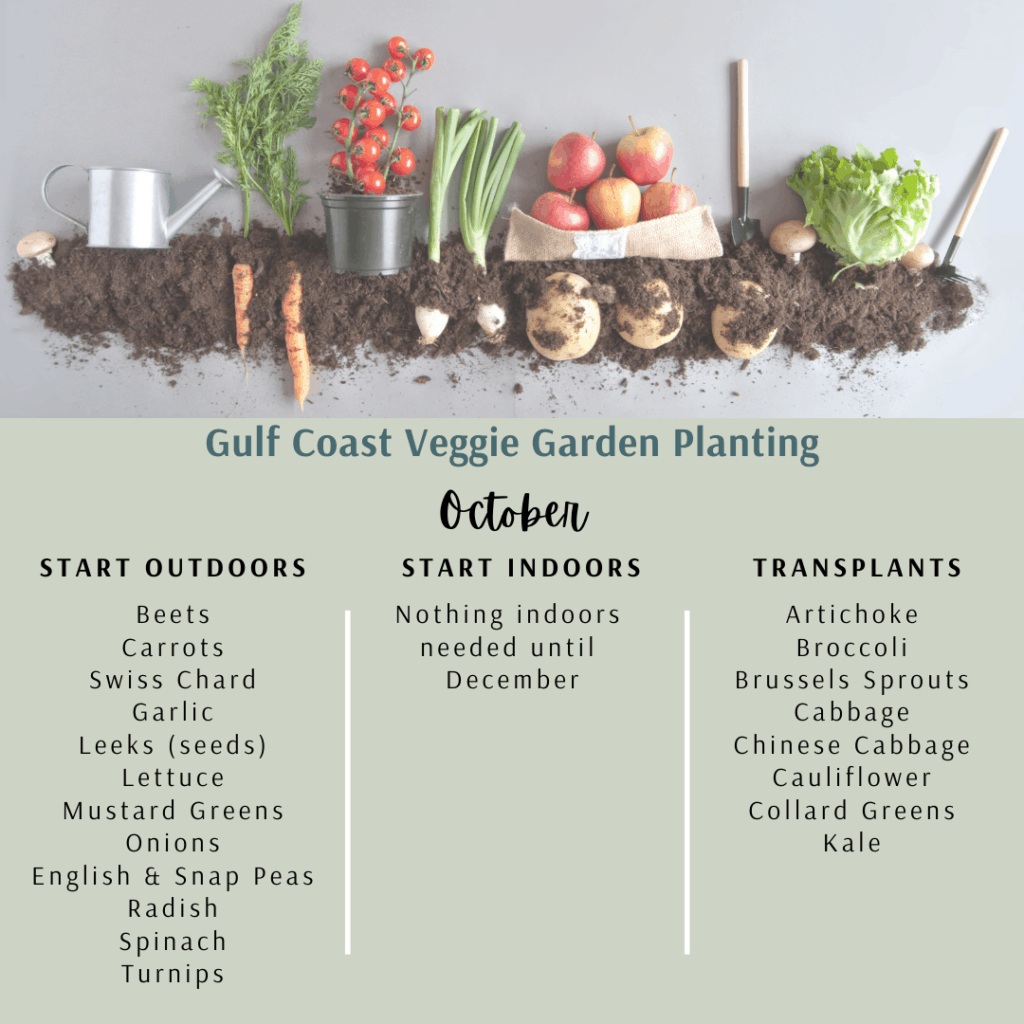 We have been building the gardening area out and getting rid of some old raised beds that the dog enjoys digging up. We've been out there working, but it has meant that I'm a bit behind on the planting part myself. Story of a gardener's life, right?
Anyhow, after a bit of crop and weed clean-up, it's time to get some seeds in the ground.
We are mid-way through some more garden expansion. Mulch and walking stones are coming!
Starting from Seed
We are planting carrots, kale, leeks, lettuce, English peas, radish, and spinach. All but the peas are planted the same way. Prepare your dirt, plant them shallow, keep them moist, and wait for them to sprout.
It is still in the upper 80s, so for the first 2 days, I like to put a small board over the row of seeds to help keep some of the moisture in the dirt to help them sprout.
We'll come back and thin them when they reach about 2″ tall.
For the peas, the only difference is that they will benefit from some support.
Don't Forget About Succession Planting
I mean succession planting versus succession planning. Although it would be nice to think of passing the baton on to another person in the household as long as my fresh veggies keep coming!
If you aren't sure what that is, you just put some seeds out a bit at a time in order to have a steady supply.
Essentially, I'll harvest some carrots when they are ready, and then in a couple of weeks, I'll have some fresh to pull. It keeps more food coming in intervals versus a bunch at a time to handle. Of course, if you plan to can those carrots, feel free to plant a bunch.
I am going back out each weekend to add a bit more carrots, lettuce, radish, and spinach for succession planting.
Transplant Time
As I mentioned, I am a bit behind this month, and I did not start my own transplants. I got some cabbage and broccoli from a local nursery to plant. My fall garden requires much less room than the spring versions, so I am spacing out the plants 2 feet between. Take a look at these beauties!
Mulch & Enjoy
Now, I'm coming in with some fresh mulch to keep weeds down and moisture in. Easy peasy. And now it's time for a glass of iced tea to admire a freshly planted garden.