There are soooo many housing types, that the conversation ends up muddled. Chances are that if you're curious, you're just looking to live smaller! Either you're looking to save money, looking to save your sanity through living smaller, or both! The lines get blurred, and there are several 'it depends' things. So what are the differences between the housing types?
Tiny houses are under 400 square feet. Small houses are between 400 and 1,000 square feet. Mobile homes are pre-built and wheeled to a housing site that may fit in the small house size.
Lets dive into the differences between the terms thrown around.
Tiny House & Small House are Simply House Size Categories
The terms 'tiny house' and 'small house' are specific to the size of the housing regardless of details of the structure.
Tiny houses are any housing option that is 400 square feet or less. Small houses are the next level up in size and encompass 400 to 1,000 square foot homes.
That is why when you see someone refer to a tiny house, sometimes they have wheels, they may literally be a converted bus, or it could be in a community setting. Anything under 400 square feet fits the term!
That's why the term tiny house is thrown around despite very different looks to them – it's just the size, not the design.
I do not see the term small house thrown around quite as often, but the shed to house conversions and smaller mobile home options fit into this category generally.
Have you considered how big of a house you'd like? Here's a guide to help you find the right size for your situation.
So How Big are Shed Houses?
The base of a shed house is a shed with building features of a traditional home. So shed houses are generally in the 300-800 square feet range whether you build one yourself, have one built, or have one delivered.
Manufacturers such as Tuff Shed will even build a two-story version to minimize your property footprint while maximizing your interior space. Here is a Tuff Shed build-out that is just under 800 square feet and highlighted via Home Depot. It's a darling two-story shed conversion.
Generally, shed houses fall into the small house category, but it's just a size designation, afterall!
So How Big are Mobile Homes?
Mobile homes generally start in the 750 square feet range and reach over 3,000 square feet!
The term mobile home sounds broad to include any home that is mobile. I like this definition, but it generally refers to homes that are pre-manufactured, attached to a chassis permanently, and can be moved.
This still fits the definition of tiny homes on wheels, though! With that, mobile homes tend to mean the kind intended to be a bit more static than their tiny home counterparts. They are considerably larger with single wides usually starting at 40-foot long and requires permits to move because of their size.
So mobile homes in the context of living smaller are considered small homes based on their size. Larger versions leave the small house range to more of a traditional house, again, dependent on the square feet.
What are the Different Types of Tiny Houses?
So anything that is under 400 square feet is a tiny house, and this term gets thrown around in so many ways. What exactly are the different types of tiny houses?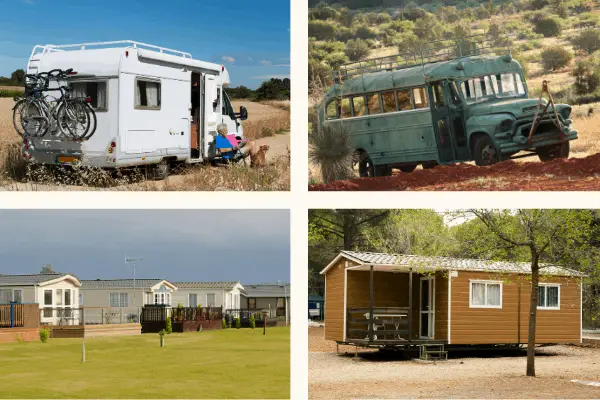 Below are the terms of housing that you may find in the tiny house space, but know that most can breach into the small house sizing depending on the dimensions of the build-out.
Van conversions (van life)
Bus conversions (Skoolie)
Shed home
Tiny house on wheels
Houseboat
Yurt
Shipping container conversion
RV (recreational vehicle)
Trailers (small mobile homes)
Shed to House
Shome (shed to home conversion)
A-frame cabin